My 1970 Mach 1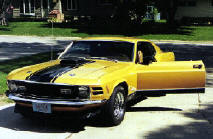 This car is just as strong as it was the day I bought it in 1986. The car was stored for 7 years by the previous owner. The day I saw it I just knew I had to have it. It is a 1970 Mach 1 with a 351C 4v engine. It has a factory ram air shaker hood scoop, rear louvers , rear spoiler, and a front air dam. The louvers and air dam were replaced by me but are the correct parts for the car. When I got the car the parts were missing but the mounting holes were there. The color is Bright Gold Metallic (code-K) and the interior is Ginger (code-3F) comfort weave high back seats with a rim blow steering wheel. It's not a show car and shows the wear of being driven but that's what I like about it. I can take it out and have a good time and not get upset if it rains.
For the most part I have not had to do anything but wash and drive her. I have replaced the clutch and exhaust for the mechanicals and replaced the carpet as someone replaced the original with a brown and gold shag carpet. (typical 1970's shag carpet..... )
This year (2002) I pulled the engine out to re-seal it. It was starting to leak from the pan gasket and the valve cover gaskets. I replaced everything but the head gaskets and valve seals. The camshaft gear was worn along with the distributor gear from the distributor-shaft starting to freeze up in the block just above the oil pump shaft. I replaced the camshaft with a Crane Cams Fireball 302 cam that I got with car, the previous owner had replaced the block (he clamed that it broke a rod just lugging it up a hill... ya right.) and didn't put the cam back into the new engine.

Now I would like to show you something that I am very proud of...